New Hampshire NASA EPSCoR
In 2004, the National Science Foundation designated New Hampshire an EPSCoR state. That EPSCoR designation then qualified New Hampshire researchers and research jurisdictions to apply for EPSCoR funds from federal agencies with EPSCoR programs—NASA being one of those agencies.
New Hampshire NASA EPSCoR is administered through the New Hampshire Space Grant at the University of New Hampshire. Dr. Antoinette Galvin, director of the NH Space Grant, is director of NH NASA EPSCoR. A New Hampshire EPSCoR Technical Advisory Committee serves to advise on the jurisdiction's research priorities, the program progress and accomplishments.
NASA EPSCoR Stimuli 2019-20 Available Online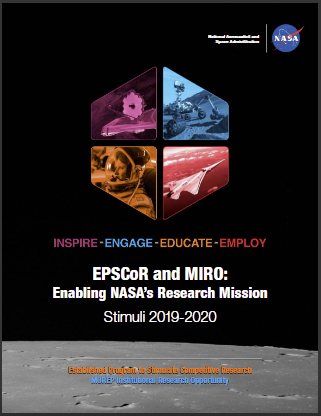 Stimuli is a summary collection of college and university basic research and technology development reports in alignment with the NASA Technology Roadmaps. The document is currently available on Issuu.
NASA EPSCoR Stimuli, ISS Edition, Available Online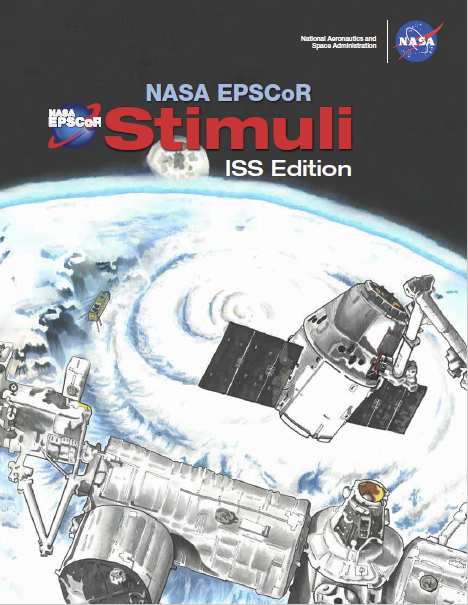 NASA's Office of STEM Engagement (OSTEM) is pleased to release a NASA EPSCoR Stimuli edition dedicated solely to International Space Station Flight Opportunity projects, a collection of mature university research and technology development projects which have benefited from microgravity testing, all of which are relevant to NASA's missions and are administered by the Established Program to Stimulate Competitive Research (EPSCoR) Project Office at Kennedy Space Center.
The document is available on NASA.gov and on Issuu

NASA EPSCoR Inititatives
The NASA Established Program to Stimulate Competitive Research, or EPSCoR, is a merit-based program designed to strengthen research capabilities in jurisdictions not equably participating in competitive aerospace and aerospace-related research activities.
EPSCoR-eligible jurisdictions are offered funding to develop a more competitive research base among their member academic institutions.
Two main initiatives of NASA EPSCoR are:
1. Research & Infrastructure Development (RID) Cooperative Agreements address enabling institutions of higher learning within the the jurisdiction to build and strengthen relationships with NASA researchers and jurisdictional industries. Typically up to $125,000 may be awarded by NASA per year to a given jurisdiction. The RID proposal and award typically has a three-year cycle. A one-to-one match (non-federal, cash or in-kind) is required for every NASA dollar awarded. Each funded NASA EPSCoR proposal should focus on building the core strength needed to develop competitive research and technology development methods and activities for the solution of scientific and technical problems of importance to NASA as defined by one or more of the four Mission Directorates and/or one or more of the ten NASA Centers. The jurisdictional proposal should demonstrate a contribution to the overall research infrastructure, science and technology capabilities, higher education, and economic development of the EPSCoR jurisdiction.
Only one proposal per jurisdiction may be submitted to NASA for a given RID solicitation. If selected, the NASA EPSCoR award is made to the institution of the NASA EPSCoR Director within the jurisdiction. Funding to other participating higher education institutions within the State of New Hampshire are through sub-awards from the Director's institution (UNH). Each participating institution within the RID proposal is responsible for providing 1:1 match as cost share for their portion of NASA funding, with the cost share guaranteed in writing by their responsible institutional representative (typically their office of sponsored research). The source for cost share shall be provided as part of their request for participation, and such cost share will be obligated to their institution under the sub-award process. Those institutions of higher learning within the jurisdiction who are interested in participating within the next RID proposal must contact the NH NASA EPSCoR Director's office before the deadline cited below.
The next NASA RID solicitation (FY22) is now available on NSPIRES (https://nspires.nasaprs.com).
A formal request to the NH NASA EPSCOR Director is required for participation in the New Hampshire RID proposal. This request must be submitted to the jurisdiction's director's office before May 1, 2021 (please address inquiries to toni.galvin@unh.edu and cc: david.heirtzler@unh.edu).
Available funding for sub-awards within the RID will depend in part on the number of participating institutions.
Important Dates RID FY22 Proposal Process:
Request by institutions of higher learning within New Hampshire to the jurisdictional Director for potential participation in the FY22 RID proposal: COB May 1, 2021.
............
RID mini-rewards at UNH:
Requests for internal UNH mini-award selections (small infrastructure research projects with a 1-3 year period of performance under existing RID) are due September 1st and March 1st of each year. For details on these small awards, including eligibility, cost share requirements, and status of funding availability, please contact toni.galvin@unh.edu. For the most recent selection criteria, read more (pdf) and sample form.
............
Research Cooperative Agreements
2. Research Cooperative Agreements address high-priority NASA research and technology development needs. They are expected to establish research activities that will make significant contributions to strategic research and technology development priorities of one or more of the Mission Directorates and contribute to overall research infrastructure...the most recent call is available through NASA NSPIRES for the most recent call.
These research awards are typically up to $750,000 for a 3-year period. A 50% to 100% match (non-federal source of funds, cash or in-kind) is usually required for every NASA dollar awarded, but match requirements in each announcement may vary.
NASA intends to solicit EPSCoR Research Cooperative Agreements yearly, however this is pending available funding. For this reason, the date for the NASA solicitation changes every year.
All institutions of higher learning within the state of New Hampshire (the 'jurisdiction') are eligible to compete, however as only one proposal may be submitted per jurisdiction, there is a down-selection process done through the NH NASA EPSCoR Director's office. Currently, NASA policy is to make the award PI the jurisdictional director, who then issues a sub-award to the proposal's Science Investigator.
Because the PI-Manager is the jurisdictional director, there will be project administrative costs applied against the award amount. The amount of these administrative costs depend in part on how many sub-awards are involved. Note that the cost share for this administrative cost will be the responsibility of the Sc-I.
Timeline.
The open call for the jurisdictional selection occurs every September 1 - September 30 (of each year). New Hampshire institutions of higher learning interested in competing for the NH jurisdictional down-selection under this open call must submit within that time interval. For further information on what is required and submittal details for the jurisdiction-proposal please see here. NASA EPSCoR Areas of Interest should be referenced within the mini-proposal.
The down-selection process will include merit and programmatic considerations.
Important Dates:
Submittal of Jurisdiction (NH)-proposal to Directorship office (toni.galvin@unh.edu and david.heirtzler@unh.edu) for the Open Call: September 1 - September 30 of each year.
Jursidictional down-selection process: ONE PROPOSAL WILL BE SELECTED STATUS: After the NASA announcement is received.
NOI to NASA: TBD after AO release
Proposal to NASA: TBD after AO release
NH selection for the NASA AO NNH21ZHA004C solicitation (FY21) has been made.
............
3. Other Research Opportunities
EPSCoR also has other targeted opportunities, such as 'EPSCoR International Space Station (ISS) Flight Opportunity' and the 'EPSCOR Rapid Response Research (R3)'. See NASA NSPIRES for details.